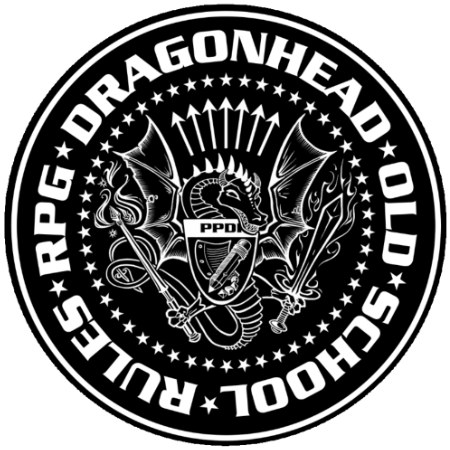 Dragonhead is an old-school RPG currently under development. It is not a clone, but a new system looking to recapture the feel of earlier games. The rules are simple but not overly simplistic. The game itself is about adventure, exploration and conquest rather than character and drama. Dragonhead is an attempt to make good on the promise of B/X D&D, namely a game in a box that anyone can open up, have running in minutes, and enjoy the hell out of for ages to come.
Of course, there are no boxes here. This is the internet and your printer is probably not up to the challenge. There are however a number of files - the current white pages of the game itself - which you can get by clicking the links below.
The large colored tiles link to the game's four main books. You can get them in EPUB for people with eReaders, standard PDF, or editable DOC files. If you do choose PDF, please don't print them out. The game is not yet in its final state and you will just be wasting paper and ink.
Below them are a loose collection of other files mostly in PDF, as well as a zip file containing the whole enchillada. And while you are at it, why not sign up to our mailing list by clicking on the dice at the bottom of this page. While it's designer is active on twitter, this is the only dependable way to keep abreast of its development and future updates.
Last but not least, tell us what you think! Now is the time to make comments and suggest changes. Once the game is finished it is done. Now is the time to act!